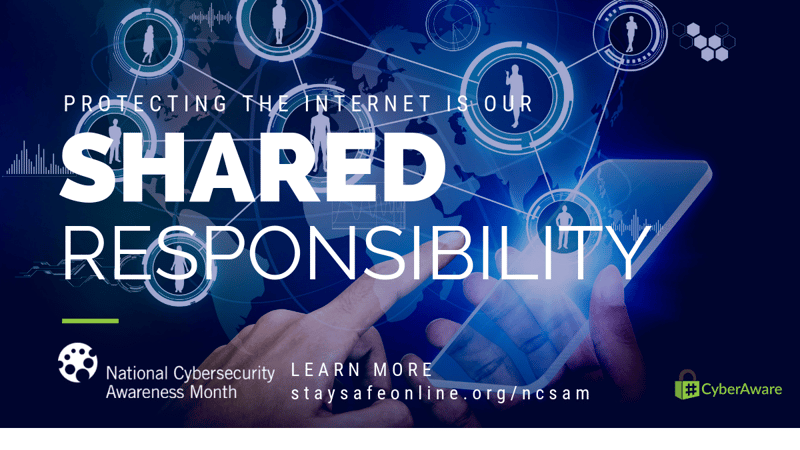 There is no arguing that we lead digital lives. From the office and home to everywhere in between, we work, learn, engage and play online. And as a shared resource, everyone has a responsibility in keeping the internet safe. October is National Cybersecurity Awareness Month (NCSAM) and this year's theme is Our Shared Responsibility.
One way to be a mindful digital citizen is to practice smart online safety habits and learn how to protect yourself, your family, your employer and your devices with resources from these sites:


StaySafeOnline is the official National Cyber Security Alliance website. They provide a full Resources Library and tips for Online Safety Basics, including Lock Down Your Login, information on ways to fortify your online accounts by enabling authentication tools.
THINK. CONNECT.™ is the online safety awareness campaign provided by the National Cyber Security Alliance and the Anti-Phishing Security Group. The site offers tips and resources from practicing effective cyber hygiene to owning your online presence.
OnGuardOnline is the Federal Trade Commission's free resource on Privacy, Identity & Online Security. The site also makes available toolkits and awareness activities for educators and parents.
One industry that is especially susceptible to both cybercriminals and data breaches is healthcare. As a result of cyberattacks like WannaCry The Healthcare and Public Health Sector Coordinating Council recently announced plans to release voluntary cybersecurity best practices to improve cyber health in the healthcare industry. This will include best practices for:
1) Manufacturers: Increasing the security and resilience of medical devices
2) Healthcare Providers: Improving their security posture
3) Medical Schools: Training clinicians in secure use of IT, EHRs and medical devices


To a business organization, it is often employees who pose the most risk, making them vulnerable to cyber attacks. In a recent survey on trends in employee cybersecurity and risk awareness, almost half of all respondents said they would let a colleague use their computer to login. And fifty five percent admitted to clicking on links they didn't recognize, demonstrating risky behaviors that can open the door to theft, malware, ransomware, and a host of other security issues. It is essential to educate employees and provide resources and training opportunities on cyber security best practices. Your organization is only as secure as your employees are aware.
Bottom line: being proactive is your best offense against cyberattacks. Understand the risks and be aware of how your digital presence can impact the entire online community.