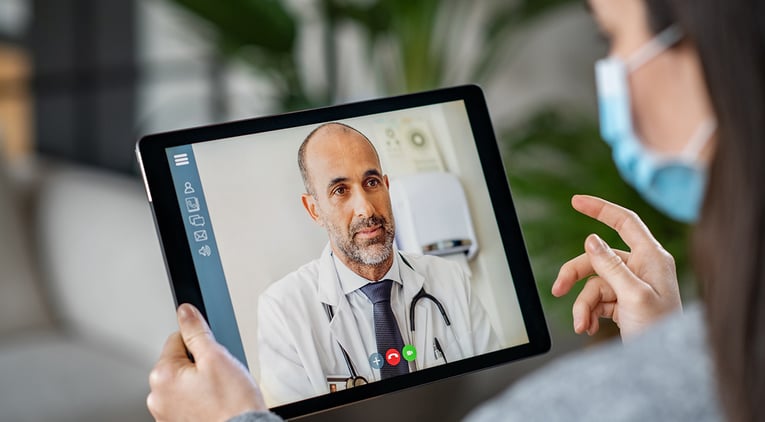 The ongoing coronavirus pandemic has pushed telehealth and mHealth to center stage as healthcare providers of all sizes look to provide care on virtual platforms. We want to help you stay on top of the latest updates to telehealth.
---
August 10, 2020

Industry Voices—3 challenges exposed in the new world of telehealth (and how to overcome them)
Fierce Healthcare


While promising, the acceleration of telehealth has come with some speed bumps that have been revealed with the rapid move to video conferencing and telephone-based appointments. [Read more]

New Telehealth Bill Seeks Funding for Broadband Expansion Programs
mHealth Intelligence


A new bill before Congress aims to increase funding for telehealth expansion programs that target improved broadband connectivity. [Read more]

August 6, 2020

How CMS Changes, Trump's Executive Order Affect Telehealth Coverage
mHealth Intelligence


Alongside President Trump's call for more rural telehealth coverage, CMS' proposed 2021 Physician Fee Schedule could keep the momentum going for connected health. But is it enough? [Read more]


July 30, 2020

Telehealth Can Be a Lifeline for Patients With Addictions. Is It Enough?
MedPageToday

Although telemedicine has improved treatment access for some patients with substance use disorders during the pandemic, it doesn't meet all of the needs of an already vulnerable population. [Read more]


July 29, 2020

Pandemic Spike in Telehealth Levels Off
MedPageToday


Telehealth's early bonanza during the pandemic has given way to persistently elevated use in primary care, a Department of Health and Human Services (HHS) report showed. [Read more]

COVID-19 spurs tripling in Teledoc visits to $2.8M, full-year outlook hiked again
HealthCareDive


Digital health is one of the few industries thriving amid the coronavirus. The pandemic accelerated the adoption of virtual care, as patients began to avoid doctor's offices and hospitals, afraid of potential virus transmission, and providers temporarily shut down non-emergent services. However, vendors are reporting utilization is yoked to the availability of in-person services. [Read more]


July 27, 2020

New Telehealth Bill; Remote COVID Care Outcomes; Up Next: Telesurgery?
MedPageToday

Telehealth Roundup highlights news and features about emerging trends in telemedicine and telehealth. [Read more]

'Weeks where decades happen': Telehealth 6 months into COVID-19
HealthCareDive

The telemedicine industry exploded out of necessity earlier this year, but its future staying power will depend on what insurers are willing to cover and what regulations stay rolled back. [Read more]

July 26, 2020

Virtual Care: Here to Stay; Systemic Racism: A Public Health Issue
MedPageToday

Must reads about the latest news and trends in healthcare careers. [Read more]

July 23, 2020

Providers scramble for telehealth, pick Microsoft, Zoom and doxy.me in pandemic's early days
HealthCareDive


Much like remote work, telehealth adoption has sped up rapidly out of necessity. And while it remains to be seen whether Medicare reimbursement will continue for virtual visits beyond the public health emergency, providers have spent heavily on the technology and plan to invest even more. [Read more]

July 21, 2020

CMS to Assess Telehealth Reimbursement Rates Post-Pandemic
RevCycleIntelligence

CMS Administrator Seema Verma said the agency needs to assess telehealth reimbursement rates considering such significant uptake of virtual care during the COVID-19 pandemic. [Read more]

July 20, 2020

Healthcare Disruptors: A Telemedicine Platform From Home to ICU
MedPageToday

Telehealth has become so ubiquitous in the pandemic that it might not feel disruptive now months into widespread use. But one company's inpatient-to-primary care scope is unique, offering virtual care solutions at every step of the care pathway for patients and physicians. [Read more]
---

Not already a subscriber? Enter your email here to receive industry news, insights, and updates right to your inbox.