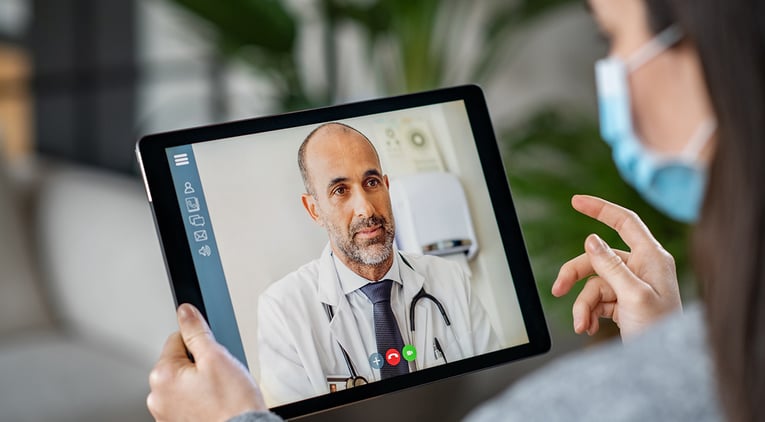 The ongoing coronavirus pandemic has pushed telehealth and mHealth to center stage as healthcare providers of all sizes look to provide care on virtual platforms. We want to help you stay on top of the latest updates to telehealth.
---
Health Law Webinar—Telehealth and Virtual Care in the Time of COVID-19: Current Status and Questions about the Future. Wednesday, September 16 | 1:00 P.M. ET
[Read more]



September 1, 2020

Telehealth grew wildly popular amid Covid-19. Now visits are plunging, forcing providers to recalibrate
STAT News

A nationwide dropoff in telemedicine visits is forcing providers who raced to ramp up virtual care in the face of the pandemic to quickly recalibrate their offerings as more patients turn back to in-person appointments.
[Read more]



August 31, 2020

CMS Eyes Expanded Coverage for Innovative Telemedicine Devices
mHealth Intelligence

The Centers for Medicare & Medicaid Services has issued a proposed rule that aims to allow Medicare coverage for "breakthrough devices," giving providers and patients access to cutting-edge telemedicine and mHealth tools.
[Read more]



August 30, 2020

Fad or future? Telehealth expansion eyed beyond pandemic
Modern Healthcare


Permanently expanding access will involve striking a balance between costs and quality, dealing with privacy concerns and potential fraud, and figuring out how telehealth can reach marginalized patients, including people with mental health issues.
[Read more]



August 27, 2020

Political parties should come together to expand telehealth access
The Hill

Patients and doctors have found a new way forward on health care that meets their needs so political parties should not impede progress.
[Read more]



August 26, 2020

Can Telehealth Help Medical Practices Ditch the Waiting Room?
mHealth Intelligence


Faced with the need to improve patient satisfaction and reduce unnecessary delays in care, hospitals and medical practices are using telehealth and mHealth tools to create a virtual waiting room.
[Read more]

Telemedicine's evolutionary leap: Who says you can't teach an old Darwin new tricks?
MedCity News


Dynamic personnel shifts, technology embrace, and significant behavior change will allow for rapid evolution of the healthcare industry and create the opportunity for alliances across the care continuum.
[Read more]



August 25, 2020

Telehealth And The Rise of Systemic Change in Healthcare?
NASDAQ

The exponential rise of telehealth, telemedicine, and remote patient monitoring has a simple explanation: the pandemic has forced healthcare services to be delivered to patients where they are, as opposed to requiring physical presence at healthcare facilities. The dynamic is an incredible shock to a system but these are very early days, and real change is brewing.
[Read more]



August 19, 2020

Will a lack of reimbursement end the rise of virtual care?
Physician's Practice

What providers and practice managers need to do to ensure the continued growth
of these services.
[Read more]



August 17, 2020

Poll: Telehealth visits have skyrocketed for older adults, but some concerns & barriers remain
Institute of Healthcare Policy & Innovation - University of Michigan

New data on telemedicine use by adults over 50 show change since previous poll in 2019, including reduced worries about privacy and virtual interaction.
[Read more]



August 14, 2020

Moving On From Telehealth-By-Desperation: What Will Make Telehealth Stick
HealthAffairs

COVID-19 disrupted the typical innovation life cycle in which providers would thoughtfully weigh the advantages and disadvantages of a large-scale delivery change in advance of its implementation. Now that most US physicians have had a taste of telehealth, what still stands in the way of sustained use, and what can policy makers do to cultivate its growth?
[Read more]



August 12, 2020

CMS Releases Hospital Telemedicine Billing Decision Tree
Fierce Healthcare


Organizations should carefully review their coding and billing processes to ensure they comply with CMS' rules.
[Read more]
---

Not already a subscriber? Enter your email here to receive industry news, insights, and updates right to your inbox.