Empower business decisions with data-driven predictions
The goal for every claim going out the door is to avoid a denial and get paid as quickly as possible. However, the average claim denial rate is between 6 and 13 percent, and is on the rise. These denials cost an estimated $181 to rework and/or appeal and many are preventable. For example, a client with a 6% denial rate and 10,000 claims per month times $181 per rework is looking at a cost of $108,600 per month. The operational savings in reduction is undeniable.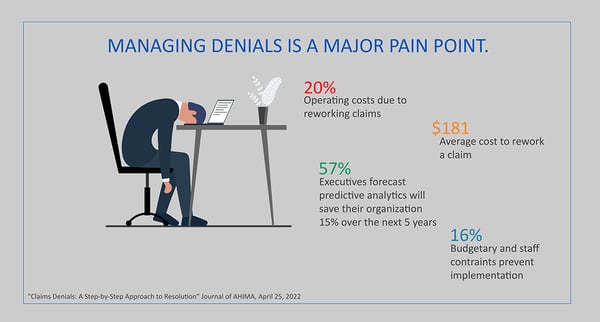 The good news is that 90 percent of all denials are preventable, and two-thirds of those preventable denials can be successfully appealed. Yet, the potentially high cost of appeals underscores the importance of ensuring that the correct processes are in place to prevent denials. Effective denials management starts with avoidance.
Combining revenue cycle performance data with artificial intelligence, healthcare leaders can predict areas within each claim's lifecycle that are likely to result in a denial. By optimizing their denial avoidance strategies, organization's will see improvements in cash flow, reduction in revenue leakage, shorter payment cycles, and an increase in operating margins. And, taking preventive steps as early as possible in the revenue cycle is a much less expensive approach.
Quadax's Predictive Intelligence suite (PIQ) can greatly reduce this expense. Our cutting edge machine learning models predict if a claim will deny prior to being sent to the payer. And, the models are built using your organization's data to find trends specific to your claims, and will be tuned to your specific needs, thus maximizing your ROI. Included in these predictions are:


Expected reasons for a denial to allow the end user to take corrective action and avoid denials.

Predictions on expected reimbursement and number of days to receive payment, allowing you to have an accurate understanding of your revenue cash flow month over month.

Real-time processing that allows the user to debug a claim as it's being entered and see prediction updates in real time with the push of a button.
How much longer can you afford to lose money on preventable denials?
Let's Take on the Revenue Cycle Together!