Going paperless is a green solution in more ways than one. If done smartly, you can save the planet and save your company a bundle of green as well.
Just how much green is at stake? More than 30% of remittance advice transactions are still done manually. With manual transactions costing on average $4 more than electronic transactions, healthcare providers have the opportunity to save $1.23 billion in green each year by adopting electronic processes. For additional industry benchmarks on healthcare transactions' volumes and costs, view the 2016 CAQH Index Report.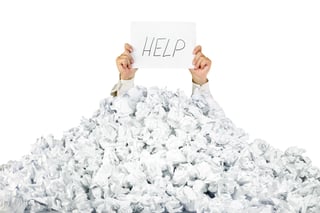 Translating the paper remittance records you receive to electronic remittance files is a start, but trading a pile of paper for an electronic folder of files will not necessarily produce the efficiencies you need. Gaining value in the adoption of electronic processes requires that paper be transformed into electronic information—actionable data that can be seeded into your company's existing electronic workflows.

How can that be accomplished and where can you go to learn more? The RemitMax team at Quadax has outlined the process in its free e-book, Surviving The Paper Storm, A How To Guide.
Your first step in a "go green" analysis, is to understand your organization's potential for gains by considering the cost savings opportunities. Since manual costs associated with paper handling are often hidden, you may need to ask a number of questions to fully quantify savings opportunities. Consider the manual efforts that are folded into overhead, not typically included in standard performance reporting. Also consider the paper management costs associated with storage, reproduction, disbursement, and retrieval. Another critical factor to examine in your cost-savings analysis: the greater accuracy of electronic payment processing, and the increased visibility of more precise performance reporting allowing you to separate locations, balance and split co-mingled funds, and ensure cash flow integrity.
Your next steps will be to focus on five key Cs for transformation of remittance forms, images, and correspondence into actionable data: collect, capture, curate, create, and cultivate.
To realize a full transformation of your processes, you'll need to—
Determine the best collection methods for all of your non-standard source documents
Use the highest quality capture methodology
Depend on curation techniques that will organize data into existing workflows
Ensure that the electronic remittance formats created are enriched with all relevant data
Integrate correspondence into your system for cultivation of effective follow-up
The key to discovering how much green you can save by adopting electronic processes is to find a paper remittance transaction partner with deep healthcare experience, who knows what works and works well. A partner who can help you assess your needs and fit a solution to reflect best practice for your organization is your best bet for making the most of electronic processes in your payment processing routines.
Learn more about evaluating your options when you download the free e-book Surviving The Paper Storm, A How To Guide.
Go green and reap the rewards!