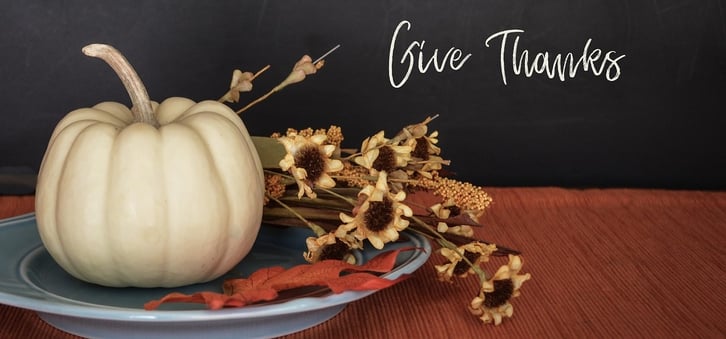 As the season for giving thanks is upon us, the question heard most often is, "What are you thankful for?" While the usual responses - family, friends, and health - are no doubt significant, it did give us pause to ask ourselves; what is Quadax thankful for?
Serving providers in the healthcare industry and providing a continuity of excellence are the essentials of our business, but the building and fostering of relationships is the best part of what we do, and that for which we are most thankful. For us it's personal. People serving people, working together in seamless unity.
Quadax is Thankful for Our Clients
From hospitals to laboratories to physicians and other healthcare organizations as well as billing and follow-up companies, we thank you for trusting us with your diverse revenue cycle needs. We are proud of our Midwestern Healthcare Corridor roots and always strive to put our customers first with three principles in mind: create value, champion health, and never settle. We are fortunate to enjoy client relationships that have endured 10, 15, 20 years and longer. Knowing you count on us to be a reliable partner, we thank you in turn for your confidence in Quadax.

"I am thankful that we have caring and understanding clients who support and care about their patients." ~Sharon

"I am thankful for being able to help cancer patients spend less time worrying about bills and more time fighting the disease." ~Tom

"I am thankful for having made unexpected friendships with clients throughout the years." ~Judy
Quadax is Thankful for Our Employees
The greatest value we provide clients is our people, their loyalty, dedication, and innovation are the reasons we are in business. At Quadax, we are a community and everyone contributes. More than knowing what to do, it's caring about who we do it for—even when we don't serve the patient directly, we are serving someone who does. With more than 800 employees, our team is ready to assist Quadax clients by nurturing relationships with personal and face-to-face support. From the initial sales contact, to implementation and all the way through to our exemplary customer service and technical support, Quadax staff help client's prosper by working together to solve their reimbursement challenges. With more than 44+ years of healthcare industry experience, the continued excellence that is synonymous with the Quadax name is a result of our amazing staff.

"I am thankful for my job and coworkers who are always generous and helpful." ~Terri

"I am grateful to Quadax for the opportunity to work in a company that is so caring to their employees and offers so many benefits throughout the year." ~Ann
"I am thankful for the spirit and dedication of the employees I am so privileged to lead." ~Tony

"I am thankful for the great team I work with." ~Stephanie
Quadax is Thankful for YOU
Our friends and followers, clients and partners, we are thankful for you. As we reflect on all we have to be grateful for this year, we hope you will also take time to give thanks for the blessings in your life. We look forward to counting YOU as a blessing for many years to come.


Happy Thanksgiving!