Our secret sauce is the perfect blend of great technology with reliable, expert, personal support.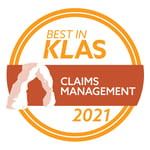 Ultimately this rating was earned because of the interviews KLAS conducted with users of the Quadax Claims Management, Xpeditor™ product .
"We strive every day to deliver exceptional service and support to every client, working hard to be responsive, timely and proactive to our clients' unique needs," said Tony Petras, COO, EDI Services for Quadax. "This Best in KLAS award is especially meaningful because it reflects the positive experiences of our clients."
While many in healthcare tend to think of claims processing as a commodity, Quadax continues to demonstrate providers can and should expect more of their claims management vendors.
The Quadax Claims Management application enables providers to achieve greater control over their revenue cycle to streamline, automate, and customize their claims and follow-up workflow to meet their own unique needs. And, the Quadax first-pass acceptance rate of 99.6% helps clients to realize greater cash flow with less work!
The things technology cannot provide, however, remain critically important to healthcare revenue cycle leaders, and it's in those areas Quadax shines even brighter. Our commitment to reliable, expert, personal support means every account has a dedicated account manager. A team of real people answer the phone when you have a question or concern. We personally work with every client to help them use our products in the best way to meet their distinct needs and goals.
"Each year, thousands of healthcare professionals across the globe take the time to share their voice with KLAS," said KLAS President Adam Gale. "They know that sharing their perspective helps vendors to improve and helps their peers make better decisions. These conversations are a constant reminder to me of how necessary accurate, honest, and impartial reporting is in the healthcare industry."
KLAS Research scores vendors on the performance categories Culture, Loyalty, Operations, Product, Relationship, and Value. What they learned put Quadax at the top of the list. The rankings for Claims Management are on the KLAS website and are updated regularly.
"The Best in KLAS report and the awards it contains set the standard of excellence for software and services firms," Gale added. "Vendors who win the title of 'Best in KLAS' should celebrate and remember that providers now accept only the best from their products and services. The Best in KLAS award serves as a signal to provider and payer organizations that they should expect excellence from the winning vendors."
KLAS data is freely available to healthcare providers. You can learn more about KLAS and the insights they provide, and download the 2021 Best in KLAS: Software & Services Report when you log in or create a free account.
Experience the difference in working with the #1 rated Claims Management system. With over 45 years of experience, we'd love to talk to you, understand your goals and share how we can help you meet or exceed them.
Let's take on the revenue cycle together!