***UPDATE:

MBI Lookup Tool Now Available through Your MAC***
All Medicare Beneficiary Identifier (MBI) lookup tools are ready for use on Medicare Administrative Contractor (MAC) secure portals. If you don't already have access, sign up for your MAC's portal to use the tool.
Submit four data elements about your patient through the tool, and it will return the MBI if the new Medicare card has already been mailed. Medicare is mailing new cards in phases by geographic location. For more information about the MBI, read the MLN Matters® Special Edition Article.
Medicare is currently mailing new cards to people who:
Live in Alaska, American Samoa, California, Delaware, District of Columbia, Guam, Hawaii, Maryland, Northern Mariana Islands, Oregon, Pennsylvania, Virginia, and West Virginia
Get Railroad Retirement Board benefits
Are newly entitled to Medicare
---
***UPDATE: New Medicare Cards are coming! ***
On April 1, 2018, CMS will begin mailing patients their new Medicare cards. Help inform Medicare Patients, by playing the "New Medicare Cards Are Coming" video in your waiting room. This one minute video created by CMS explains when and how patients will receive their new card.

Original 10/7/17 post: The transition to Medicare Beneficiary Identifiers (MBIs) will universally impact the world of healthcare. Given the sheer volume—150 million MBIs assigned to 60 million active and 90 million archived beneficiaries—the magnitude and foundational nature of this change could potentially affect when and if providers' receive payment. Being prepared for the MBI transition is a provider's best strategy.
Starting April 2018 and running through April 2019, Centers for Medicare & Medicaid Services (CMS) will begin issuing new Medicare cards to beneficiaries. On the new Medicare cards, the current Health Insurance Claim Number (HICN) will be replaced with an MBI—a unique, randomly generated number.

When planning your MBI transition strategy, consider the impacts of rollout, data capture, and random-generation on your billing system, office procedures, and automation logic.
Lengthy MBI Rollout
This is not a flip-the-switch transition. With a year-long rollout, the affected population will present a mix of the old Medicare cards and the new. Your billing system and your patient-facing procedures will need to accommodate both. Once the rollout starts, a patient may have claims active that were submitted with an HICN and other newer claims submitted with the new MBI. Your system will need to track both, during the rollout and after, for the full length of your reimbursement cycle for each claim. When filing appeals, CMS is asking providers to use the beneficiary identifier (MBI or HICN) that was used to submit the original claim.


Capturing MBI
One of the biggest challenges for providers in making this change will be getting the new MBIs. Providers will need to get the information directly from patients. The goal is for each beneficiary to provide their new Medicare card at the first visit after the new card was issued. As a result, the best method for capturing MBI will be during your patient eligibility verification procedures. Patient communication before and during the transition is key.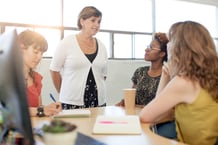 Start communicating with your Medicare patients now so that they will know what to expect. Train staff so they will be prepared to answer questions about the change, the timeline, and what patients need to do. CMS Medicare Card Messaging Guidelines provide guidance on how to talk with Medicare patients about this change.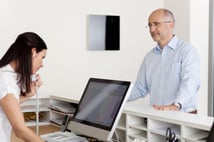 Then, beginning April 1, 2018, start reminding Medicare patients to bring their new Medicare card to their appointment. Consider adding this reminder to your appointment notice sent to Medicare patients a few days before their scheduled date of service.


If the patient has forgotten to bring their new Medicare card, CMS has just announced that starting in June 2018 providers will be able to look up a Medicare patient's new Medicare number

through their Medicare Administrative Contractor's (MAC's) secure web portal. If you do not have access to your MAC's portal,

CMS is recommending that you sign up now. And starting in October 2018, through the transition period, CMS will return both the HICN and the MBI on every remittance advice when providers submit a claim using a patient's valid and active HICN.


MBI random-generation Effect on Automation
Being randomly-generated, the new MBI 11-digit character string will not be formatted with built-in intelligence. The old Medicare number (HICN) was formatted so that certain values in certain positions within the HICN character string had meaning. Any process referencing the Medicare number's character string for values to drive automation, will need new programming logic and/or procedures. The Railroad Retirement Board (RRB) is an example of this. It will not be possible to identify from the MBI if patients are eligible for Medicare because they are railroad retirees. Only through a visual inspection of a patient's Medicare card and seeing the RRB logo in the upper left corner, and "Railroad Retirement Board" at the bottom, will providers be able to identify and manually capture this information. Consider how this will impact your data capture strategies. If you are not already doing so, you may want to include the scanning of insurance cards to your patient eligibility verification procedures.


Be Prepared!
MBIs will begin to hit your office and systems April 2018. Make sure you and your vendors are ready by April 1st—no fooling! Visit Quadax RESOURCES to stay informed about future developments on the MBI transition.
Sign up for new blog articles, helpful resources, and other updates.