With Medicare claims on the rise, its important to understand the ins and outs of the claims process.
The complexity of the Medicare claims process is not wavering so this guide aims to explain the Medicare claims process and to outline the necessary tools to make your lives easier.
The Country's Largest Payer
In 2016, Medicare and Medicaid accounted for nearly 60% of healthcare revenues reported by the five largest U.S. commercial health insurance companies. Revenue from public coverage has more than doubled since passage of the Affordable Care Act (ACA), growing from a combined total of $92.5 billion in 2010 to $213.1 billion in 2016.
According to the Centers for Medicare and Medicaid Services (CMS), among major payers, Medicare is expected to experience the fastest spending growth (7.6 percent per year over 2019-28), largely as a result of having the highest projected enrollment growth. Medicare spending grew 6.4% to $750.2 billion in 2018.
This is why it's so critical to not just be fluent in the Medicare claims process, but be an expert. How do you know how well you're doing? Look at your denial rate. In 2017, the ACA Marketplace plans denied an average of nearly 1 in 5 in-network claims. While a majority of denials are recoverable, not many are appealed. It's estimated that denial rework costs providers around $118 per claim.
The first step in avoiding denials is maximizing your first-pass, clean-claim rate.
Submitting Accurate Claims
The process of submitting Medicare claims is much different than the process for commercial claims. Medicare uses their own processing system – Fiscal Intermediary Standard System / Direct Data Entry (FISS/DDE). Entering claims manually into this system is a very tedious, time consuming task and allows opportunity for human error. Most providers use a third-party clearinghouse to scrub and format claims before submitting them to Medicare. The clearinghouse receives a report of the status of claims sent to the provider.
Quadax clients use a DDE Link portal that allows users to log in, right from their familiar Quadax portal, using their own Medicare Online System ID and password to access all of the functions they need. No extra hardware is needed and access can be enabled quickly and easily.
DDE Link lives in Quadax's best-in-class claims management system. Within the system, you can automate claim processing with comprehensive, accurate standard edits, plus edits custom to your organization, customized data conversions to overcome shortcomings in your claim generation routines, and auto-correct rules and advanced workflow to give you the greatest precision and control in your claims management. Quadax edits are constantly updated and refined, yielding a 99.6% first-pass rate, for fast reimbursement.
Errors during registration and when determining eligibility account for the majority of rejected or denied claims. Simple things like incorrect, incomplete or missing information, or the patient not being eligible on the date of service, can wreak havoc on your time and bottom line.
Quadax clients have reduced their Medicare eligibility and registration denials by more than 78% with Integrated Coverage Validation (ICV) for Medicare. Our claims management system checks HETS (the HIPAA Eligibility Transaction System) before a claim is submitted, allowing access to "insider information," which enables you to submit cleaner claims the first time.
Here are some of the valuable insights that can be gleaned from ICV for Medicare:
The exact beneficiary name that's in the Medicare system, as Medicare requires for claim processing.

Learn of frequency restrictions for 21 preventative care procedures, and the next eligible date for the patient for that service.

Identify an HMO/Managed Care/PPO for the patient, preventing incorrect billing to Medicare.

Determine hospice enrollment eligibility, including hospice period dates, hospice NPI, and the associated revocation codes.

Capture SNF, hospital, and lifetime reserve day limits and uncover the days remaining.

Determine therapy caps for occupational/physical/speech therapy, when caps are exceeded, or the cap remaining.

Pinpoint complete liability: ICV indicates when Medicare is secondary to Working Aged Beneficiary, ESRD Beneficiary, Auto No-Fault, Worker's Comp, PHS or Federal Agency, Disability, Black Lung, or VA Benefits.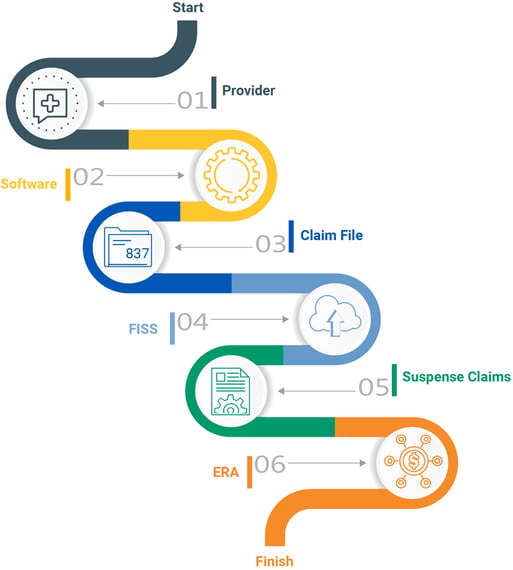 Checking Claim Status
Medicare claims are submitted to the designated Medicare Administrative Contractor (MAC) who processes them using the FISS database. All active Medicare claims reside in FISS. Medicare assigns a status and location code to each claim. This code informs providers what is going on with the claim as it moves through the adjudication process.
If Medicare finds something wrong with the claim, it will assign the claim a new status, indicating what happens to the claim from there. Medicare can return it to the provider, reject it, deny it, or request additional development. When a provider submits a claim with administrative errors, Medicare will usually issue an RTP (Return to Provider status). These claims aren't physically returned. They are placed in the "T" file and stay there until the provider corrects them. If a claim contains medically incorrect information, Medicare can give it an ADR (Additional Development Request), R (Rejected) or D (Denied) status. The provider can then take the appropriate action. Claims in R, P, T and D statuses can actively be worked, but only R, P and T status claims can be worked directly in FISS/DDE. Denied claims must be appealed.
Without a tool to automatically check claim status, billers must manually check FISS which provides limited visibility into claim status.
Quadax clients have access to an automated solution giving them actionable claim status information sooner using web-bot technology. This saves a lot of time in the follow up process as it eliminates the need to manually log in to FISS or call Medicare to check claim status. This tool also enables you to more accurately forecast the timing of your reimbursement.
Working Rejections & Denials
Every rejected or denied claim increases your risk of not getting reimbursed. It is estimated that more than 50% of denied claims are never reworked, because of a lack of time or knowledge.
Medicare offers specific reason codes and descriptions in FISS that gives billers detailed information about what they need to correct to process the claim. Working RTP claims in the DDE is a highly manual process requiring knowledge of DDE claims correction. Oftentimes, providers miss RTP claims and are forced to rebill them or write them off.
Providers who don't have access to review or analyze FISS data lose an opportunity to identify inefficiencies in their billing processes that are creating unnecessary labor costs as well as avoidable claim errors.
Quadax clients have the ability to automatically create custom worklists to intelligently route Medicare denials to the appropriate staff for timely follow-up. The purpose of our Denial Management Workflow system is to provide swift, uncomplicated access to essential working documents for follow-up staff, as well as key denial inventory reporting metrics for management.
Gain insight into your data.
With Medicare paying the highest percentage of healthcare claims, understanding rejections and denials is critical when trying to maximize your reimbursement.
Comprehensive, automated Medicare reporting and analytics provide greater insight into your billing process so you can spot issues that may negatively impact your Medicare claims and follow-up efforts. In addition to analytics and reporting during claims processing, having additional services in place to manage Medicare underpayments and uncompensated care can really increase your net collections.
Decision Intelligence by Quadax helps you to gain real-time insight into complex Medicare revenue cycle data, understand data patterns and correlations, and be alerted to key events for informed decision-making. Now you can leverage actionable data for quick resolution to more effectively reach successful business outcomes – having a big impact on your bottom line.
It's always better together!
Managing and editing rejected and RTP claims through FISS drains valuable staff time and can reduce your reimbursement potential.
The best way to protect your organization's bottom line and avoid the chaos is to work with a thorough, experienced partner like Quadax. With deep industry expertise and technology delivered through person-to-person contact, only Quadax gives RCS professionals the freedom to consistently add value to their company. Our clients spend less time fixing problems and more time pursuing the opportunities that move their organizations forward. Going from what feels like spinning your wheels to driving excellence in your organization — that's the real value in partnering with Quadax.
Let's take on the revenue cycle together!